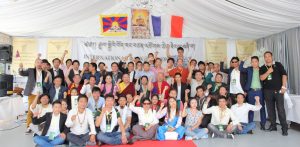 Tibetan independence advocates from ་around the world came together for the fourth International Rangzen Conference held in Paris, France. The conference was aimed at bringing together the various organisations and individuals wishing to promote a policy of full independence for Tibet from China.
The attendees included Tibetan Parliamentarians, Tibetan organisations, foreign organisations supporting Tibet's independence, and delegates from India, Nepal, the United States, England, Canada, Europe, Australia, Mongolia and Taiwan.
The conference opened with a one minute silence for the Tibetans who have sacrificed their lives for the independence of Tibet.
Monlam Tharchin, the Bon representative for the Tibetan parliament in exile, is quoted by phayul.com as saying, "Revival of a nation is not just about religion and culture and we need to continue to work from one generation to the next to regain our independence".
Member of the Tibetan Parliament-in-Exile Tenpa Yarphel said, "The loss of this profound and the millennial old Tibetan culture is a great loss to the culture of non-violence and peace in the world, which will have an impact on our world."
Topics discussed at the conference included:
"Future for East Turkestan and the struggle for independence"
"Without Independence, Tibetan religion and culture will not survive"
"Close link between Tibetan independence and World Peace"
"Migrational policy of China"
"Self-immolation protest and the current situation inside Tibet"
"Struggle for Independence is our duty"
The conference took place from August 21 – 23 and is reported to have agreed the following:
Supporters of the independence of Tibet, Eastern Turkestan, Southern Mongolia and Taiwan and the Chinese Democrats have agreed to unify their forces and work collectively.
At the conference the sympathizers of Tibet, Eastern Turkestan, South Mongolia and Taiwan unanimously rejected the Chinese authority; and affirmed the need to free themselves from the Chinese Communist party.
In the case of future convergence between the Tibetan people and the Tibetan government in exile for Rangzen, we must ensure the continuity of our struggle and grow the future seeds of Rangzen.
We must recognize the Tibetan martyrs and those who live under the brutal Chinese oppression; the appeal and the will of the protest by immolations are for our cause. This must also be preserved and also shared without being diluted.
Since the colonization of Tibet by China, several conflicts have taken place between China and India. More recently, tensions have risen between China and India. The Real border is between Tibet and India. China has absolutely no legitimacy in this conflict. We affirm that this conflict will not be resolved without the restoration of Tibet's independence.
In conclusion, that the wishes of brave-men-and-women (Tib: pawos and pamos) are fulfilled, the will of the dead for Tibet and the hope of the living, that the sun of freedom shines on Tibet, and that His Holiness the Dalai Lama lives a long life and that His wishes are fulfilled.