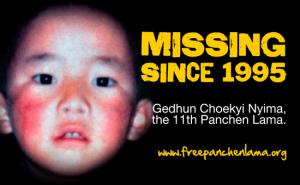 Venerable Bagdro, a former Tibetan political prisoner, concluded his week long campaign to petition over 50 local and foreign embassies in New Delhi in India for the immediate release of the 11th Panchen Lama, who was abducted by the Chinese government on May 17, 1995 at the age of six.
The Panchen Lama is the second most important spiritual leader of Tibet.
Stressing the importance of the spiritual relationship between successive Dalai Lamas and the Panchen Lamas, Ven Bagdro in his press release said "This spiritual relationship is of historic significance to Tibet as the two have played a prominent role in identifying and recognising each other's reincarnations," adding that likewise, sole responsibility of identifying the reincarnation of the Panchen Lama rests solely with His Holiness the Dalai Lama and the general Tibetan people.
A few days after Gendun Choekyi Nyima was announced as the reincarnation of the 10th Panchen Lama by His Holiness the 14th Dalai Lama, the Chinese government abducted the six year old boy with his parents. Since then his whereabouts have been unknown to the world. The Chinese government selected another boy – Gyaltsen Norbu – as the reincarnation of the 10th Panchen Lama who Tibetans shun, referring to him as the"fake" or "Chinese" Panchen Lama.
"The Chinese government doesn't have the moral or the legal right to recognise the reincarnation of the 10th Panchen Lama," said Ven Bagdro.
On the final day of his petition, Ven Bagdro said in his Facebook post "China should clarify their position on the 11th Panchen Lama and inform the Tibetan people on his whereabouts and release him immediately. I will continue my campaign for the release of the 11th Panchen lama until and unless China announces to the world about his whereabouts".
"The Tibetan people and Tibetan Buddhists all over the world will never accept Gyaltsen Norbu as the 11th Panchen Lama as it is a fact that he has been appointed to serve China's own political interest. Therefore, I urge the Central Tibetan Administration, NGOs and Tibet support groups worldwide to continue campaigning for the release of the 11th Panchen Lama – Gedhun Choekyi Nyima," he added.
Gedun Choekyi Nyima is turning 28 on April 25. The International Tibet Network –a global coalition of Tibet-related non-government organisations and a non-government organisation itself – has initiated a signature campaign urging the immediate release of the 11th Panchen Lama and his family. Click here to sign the petition.