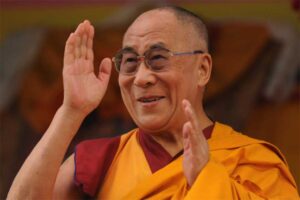 A new mobile phone application launched by His Holiness the Dalai Lama has been blocked by China on the Apple Appstore. The app, called "Dalai Lama", is an extension of the website dalailama.com, which is also blocked in China and occupied Tibet.
Zhu Weigun, Director of the Chinese People's Political Consultative Conference's Ethnic and Religious Affairs Committee, was quoted in the Global Times denigrating the app, claiming that its launch was politically motivated. 'The Dalai Lama's influence has been drastically declining in recent years, as major powers in the West have increasingly realized that supporting him has become a negative asset when trying to improve relations with China," said Weigun. "He is desperate as his influence dims, and has turned to the Internet," he continued, stressing that the Dalai Lama and his followers won't stop trying to "illegally" free Tibet from Chinese control.
Featuring news, travel information, videos and photos, the app can be used on iPhone, iPad and iPod touch, and is compatible with devices running iOS 10.0 or later, with an Android version expected to launch soon. The app is already proving popular, with over 15,000 downloads and a 4.6/5 rating on the Appstore. Its release marks a natural continuation of His Holiness' well-established online presence, with 16.7 million Twitter followers and 13 million likes on his Facebook page.
The Dalai Lama has long been engaged with the question of technology, explaining in a 2014 interview that without it, "humanity has no future, but we have to be careful that we don't become so mechanised that we lose our human feelings."