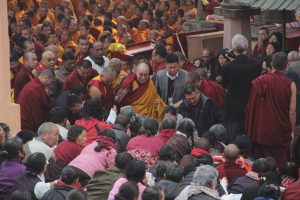 Tibetans who have travelled from Tibet to Nepal and India for pilgrimage purposes and to visit relatives have been ordered to return to Tibet immediately. Voice of Tibet (VOT) has reported that the directive is mainly aimed at the large number of Tibetans who are attending the ongoing teachings of His Holiness the Dalai Lama in Bodh Gaya in Bihar this month. The Chinese authorities have warned these Tibetans – mostly from the traditional Tibetan provinces of Kham and Amdo – that there will be severe consequences if they have not returned within the specific time given.
The local authorities in the Tawu district of Kham made an announcement on January 12 ordering people to report back by January 16, and many Tibetans who are currently in Bodh Gaya are hurrying back to Tibet. Many who have come on a pilgrimage are cancelling their plans and returning straight home.
According to the VOT report, many of these Tibetans incurred large expenses to obtain travel documents, in addition to their travel expenses. They are still facing discrimination by the authorities for travelling, despite having legal Chinese travel documents, and are returning home to possibly face consequences.
Last year, thousands of people came from Tibet to attend the Kalachakra initiation by His Holiness the Dalai Lama, again in Bodh Gaya. However, just before the ceremony began, many of them had to return home following orders from the Chinese authorities in their region.