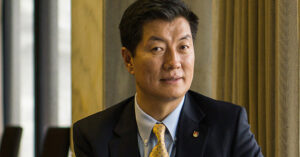 The President of the Tibetan Government-in-exile, Dr Lobsang Sangay, visited Australia and New Zealand from April 28 to May 4 to seek support for the freedom process of Tibet and to highlight the struggle of the Tibetan people. Dr Sangay began his journey by attending the 9th Festival of Tibet in Brisbane, whose main role is to expand the rich and dynamic culture of Tibet abroad and to assert the liveliness of the Tibetan civilisation, which, as the President reminded people, is not "a relic to preserve in a museum".
Lhakpa Tshoko, the representative of His Holiness the Dalai Lama in Australia, introduced Dr Sangay at the Festival and while in Brisbane the President also met a group of Chinese students. They shared their views about the relationships between Tibet and China. Dr Sangay asserted that "Tibet was never a part of China" and told the students that a non-violent approach leading to a genuine autonomy for the Tibetan people, under the framework of the Chinese constitution, would be an acceptable solution.
Arriving in Auckland, New Zealand, on April 30 for a four-day stay in the country, Dr Sangay gave public talks, met politicians, students, members of New Zealand Tibetan communities, associations and media to highlight the Tibetan situation and promote the Middle Way Approach, as initiated by His Holiness the Dalai Lama. He mentioned that New Zealand got its freedom thanks to the endorsement of other countries and by fighting for the same values that the Tibetan people seek today: democracy and human rights. Sikyong reminded people about what is happening at Larung Gar Monastery which is undergoing large scale demolition and a reduction to half of the number of monks and nuns remaining there. He also spoke of the environmental consequences of Chinese mining in Tibet and said that the 140 self-immolations that have taken place in Tibet since 2009 underline the urgency of the situation.
Sikyong met Green Party Member of Parliament Gareth Hughes in Wellington where he spoke at Victoria University and took part in a conference about the environmental, political and cultural challenges facing Tibet in the 21st century. During his speeches, he emphasised the value of unity and education to strengthen the survival of the Tibet movement.