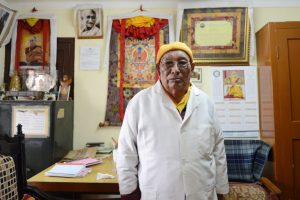 Dr Yeshi Dhonden, former personal physician to His Holiness the Dalai Lama, has been named as one of 73 recipients of this year's Padma Shri Award, India's fourth highest civilian award.
Dr Yeshi Dhonden has served patients from all over the world from his clinic in McLeod Ganj. He is an expert in Tibetan traditional medicine, known as Sowa Rigpa, which uses pulse examination and urine samples to make a diagnosis and treats using herbal remedy treatments. Even now, at 90, he is a beacon of hope for patients with chronic ailments including people in advanced stages of cancer.
"They have seen my work with their own eyes and so all I can say is thank you for the honour," he said of the award, adding "The plan had always been to help others and follow the directions of His Holiness the Dalai Lama."
In 1960 he was appointed by His Holiness the Dalai Lama as chief of thethe newly-founded Men-Tse Khang, the Tibetan Medical College,in Dharamshala. He led the institute until 1979 and was also a director of the Tibetan Astro and Medical Institute. Dr Yeshi was the Dalai Lama's personal physician from 1960 – 1980.
Dr Yeshi Dhonden was born in Lhoka, Tibet, in 1927. He comes from a long line of medical practitioners and began practicing medicine himself when he was 20. He fled to India in 1959 after the Chinese occupation of Tibet.
Sikyong Lobsang Sangay, President of the Tibetan Government-in-Exile applauded the decision to present the award to Dr Yeshi saying, "We congratulate his personal contribution and recognition of Tibetan medicine which is now increasingly being discovered and treasured by the international community for its healing prowess."
The Padma Awards are given to recognise works of distinction for exceptional achievements or service in all fields. The awards are presented by the President of India, usually in March/April every year, the awardees being given a medallion and a certificate signed by the President of India.