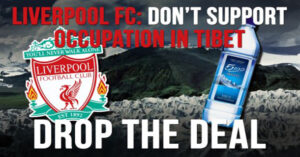 Free Tibet, the British Tibet pressure group, has launched a campaign backed by Tibet groups around the world, as well as the British consumer group SumOfUs, to persuade Liverpool Football Club – the giant Premier League Football Club – to pull out of their deal with the Chinese water bottling company Tibet Water Resources Limited.
Tibet Water Resources Limited, whose flagship product 5100 Tibet Glacial Spring Water is extracted from a natural spring 5,100 metres above sea level in the Tibetan Himalayas, market their bottled water as pure glacier water and are selling it internationally for large profits. Liverpool FC's deal makes Tibet Water their official regional water partner in China and offers the company a range of promotional and marketing rights. Liverpool FC has a growing Asian fan base and they are offering Tibet Water social media support and access to current players and legendary players from the club's history.
The campaign is highlighting the ethical issues around working with a company operating in Tibet which is under occupation and subject to well catalogued human rights abuses, as well as exploitation of its resources on a major scale to the point where it is causing grave environmental damage. In addition, Tibet's water is needed by the millions of people who live downstream in neighbouring countries and for whom Tibet's rivers are their only source of water.
As well as writing to Liverpool FC, Tibet campaigners have been attending Liverpool matches to hand out information to supporters. And Liverpool FC fans are beginning to contact Free Tibet and the Tibet Society directly and expressing their serious concerns.
Liverpool is owned by the Fenway Sports Group, the same company that owns the Boston Red Sox.
For more information about Tibet Water, please see our article Tibet's Water in Jeopardy at http://www.contactmagazine.net/articles/tibets-water-jeopardy/