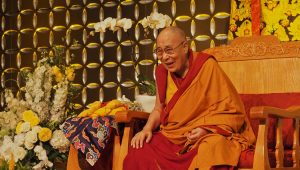 His Holiness the Dalai Lama travelled to the United States on June 13 for his annual medical checkup at the Mayo Clinic in Rochester, Minnesota, where he was greeted by a crowd of two hundred Tibetans, North American Tibetan Representative Penpa Tsering and the members of Mayo Clinic reception staff. Following his checkup he was pronounced fit and well.
He then began a tour in America, starting with his address at the University of California San Diego (UCSD) as the commencement speaker for the UCSD class of 2017. The speech Embracing the Beauty of Diversity in our World, addressed the globalisation of kindness. The university invited all local community members to share in His Holiness's "message of nonviolence, interreligious understanding and inclusiveness" and the keynote address was attended by an estimated 25,000 people.
His Holiness was greeted at the airport by the Mayor of San Diego Kevin Faulconer and his wife and welcomed by UCSD Chancellor Pradeep Khosla and journalist Ann Curry and later given a key to the city of San Diego. His Holiness went on to speak about diversity and compassion stating, "If we understand that we are all the same, there are no barriers between us. So, I deliberately try to promote compassion on the basis of the oneness of humanity…In human history different communities came about in different places, in different environments, at different times. Different languages and modes of writing arose. The result of this natural diversity is that humanity is like a garden filled not with a single bloom, but with an array of different kinds of flowers."
A handful of Chinese students walked out of the event in protest against the presence of His Holiness. In the lead up to the event, the Chinese Students and Scholars Association (an association funded and supported by the Chinese Consulate) complained about the invitation to the Dalai Lama to give the keynote speech, holding a demonstration a week before the event to show their opposition to Tibet's spiritual leader. In his speech, His Holiness addressed the fact that his views are not shared by the entire student body of the university, and encouraged them to practice compassion as a value of humanity, rather than religion. He acknowledged that students of Chinese descent make up 14% of UCSD's student population.
His Holiness then retired to a luncheon with the leadership of UCSD where he was introduced by his longtime friend Richard Blum and gave another short address.
On June 23, His Holiness was welcomed at Starkey Campus in Minneapolis to take part in a discussion on compassion in front of an audience of about 250 politicians, businessmen and women and employees of Starkey Hearing Technologies. On defining compassion, His Holiness said, "Compassion is concern for others—sincere concern for others' well-being founded on awareness of our own experience…"
His Holiness also added that compassion enhances our self-confidence, allowing human intelligence to function properly. "My friend, psychiatrist and cognitive therapist, Aaron Beck, who has worked with people troubled by anger, told me that when we're angry we see the person we're angry with in a totally negative light. However, 90% of this is just mental projection. On the other hand, compassion, as I've said, enables us to see things in an unbiased and realistic way," added His Holiness.
The following day, His Holiness met members of the Tibetan community in Minneapolis, as well as the mayors and other government representatives. Betsy Hodges, the Mayor of Minneapolis, welcomed His Holiness to their state and proclaimed June 24 as the "His Holiness the Dalai Lama day of Peace and Compassion." To the Tibetan audiences, His Holiness spoke on the history of Tibetan Buddhism and how Tibetans have preserved it through rigorous studies. He stressed the importance of preserving Tibetan Buddhism in the Tibetan exile community.
He continued by saying that all the world's religious traditions teach a common message of love and compassion, through different philosophical positions.
His Holiness ended his meeting with his fellow Tibetans by saying, "We are not saying that Tibet was not a free country in the past. What we are saying is that we are not seeking independence at this time. We are taking a middle way approach. Many Chinese who I meet are apprehensive to begin with but relax when they understand that what we seek is genuine autonomy. Our middle way approach is approved and supported by many governments around the world including that of the USA".
On June 25, His Holiness arrived in Boston in Massachusetts where he was welcomed by a crowd of over 2,000 Tibetans. He expressed his view that Tibetans have been in exile for 58 years, and Tibetans all over the world are keeping the spirit of Tibet alive. He said, "Those who live in free countries outside Tibet have a responsibility to keep up our spirits to encourage our brothers and sisters in Tibet who remain impressively determined."
His Holiness concluded by saying, "If something is worth doing, then do it. If, in fact, you fail, there'll be no cause for regret. You can try again. To die without even having tried will be to die disappointed. We all have opportunities to contribute to making a better world; we must seize them with far-sighted vision. I'm encouraged that so many people are becoming interested in the well-being of humanity. This is surely a sign of hope."
His Holiness has returned to India, arriving in Leh in Ladakh on June 28 for his next set of teachings and will be celebrating his 82nd birthday there.