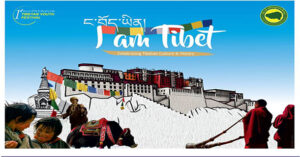 The first ever Tibetan Youth Festival, organised by the Tibetan Youth Congress, took place in Majnu Ka Tilla, Delhi, on October 14 and 15.
The event featured speakers, panel discussions, folk music performances, poetry, a fashion show and momo-eating and chupa-wearing competitions! Topics included a talk and panel discussion Tibet's Independence, India's Security, as well as talks on India's Strategic Interests in Tibet's Independence and The Indestructible Cultural Relations between India and Tibet. A "Youth Voice" session on the second day entitled Roles and Responsibilities of Youth in the Tibetan Freedom Struggle gave the opportunity for student groups discussions.
The event also included arts and crafts, a photo exhibition, and music concert, as well as the first Inter College Cultural Competition whose winner was Varanasi TYBA.
TYC acknowledged the festival supporters and thanked them for contributing to the success of the event – Dharamshala: Amchi Lobsang Ashoka, Kunga Guest House, Tibet Kitchen, PemaThang Guest House, AguSherap Shop and Tibet Tours & Travel.Delhi: DhekhangTenzing Cafe, IDA House, Dolma Restaurant, Busan Korean Restaurant, Himalayan Guest House, Snow Region, Ama Guest house, Tashi Delek Guest House, Norling Tibet Arts, Ama Group, Chokor Travels, Chos-Choed Book Stall and Bercos. Gyalnor Tsewang la (Kathmandu) and Yama la (Taiwan).