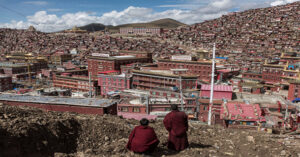 The nightmare continues for monks evicted from their homes in the Larung Gar Buddhist Academy in Sichuan. Radio Free Asia (RFA) has reported that nearly 300 monks who were evicted from the monastery had found a new home at a remote rural retreat, theBelo Ri centre in Kardze Tibetan Autonomous Prefecture's Tawu county, but they are now being moved on again.
RFA quotes a source from the region who spoke on condition of anonymity, saying, "Some officials from Tawu county recently arrived and told the monks they cannot stay there either…They told the monks that if they attempt to remain, they will face severe consequences."
The report continued, saying that senior monks at Belo Ri pleaded for the group be allowed to stay at the centre as they had broken no laws or regulations and have nowhere else to go, but the authorities insisted they have to leave.
RFA's Tibetan Service has shown a video in which a visibly angry official warns people at Belo Ri that the former Larung Gar monks will have to leave within the next few days and "will not be happy" if they remain.
No information has been received regarding the monks' departure or of any follow-up action by the authorities, says RFA.