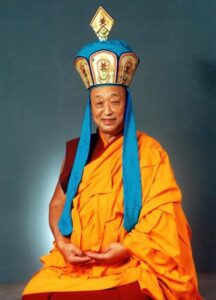 Kyabje Menri Trizin Lungtok Tenpai Nyima Rinpoche, the 33rd abbot of Menri Bon monastery and the spiritual head of the Bon tradition, died on the evening of September 14 at Pal Shenten Menriling Monastery in Dolanji, Himachal Pradesh. He was aged 90.
His monastery has released a note to say that Rinpoche was in a meditative state at the time of his demise. According to Tibetan Buddhist Tantric practice, it is a state when the body retains its heat, emits no odours or shows signs of decay despite being clinically dead. The posture can be in lying down or sitting.
A public viewing to receive blessingswill take place at the Menriling Monasteryfrom September 16 to October 2.
A prayer service was held for Rinpoche at his monastery attended by Sikyong Lobsang Sangay, leader of the Tibetan Government-in-Exile, who lauded Rinpoche's lifelong efforts towards the restoration of Tibetan culture through the Bon tradition and expressed his profound condolences at the demise of the spiritual leader.
Rinpoche was born in Tibet in 1929 in the village of Kyongtsang in the far eastern province of Amdo near the Chinese border, and was given the name Lama by the local priest. His mother died when he was a child, and he was raised by A-Nyen Machen, an elderly friend of his family. When Lama was eight years old, his father JaloJongdong took him to the nearby monastery of Phuntsog Dargye Ling where he learned to read, write and chant and where he began his lifelong study of the Bon religion. He fled Tibet in 1959.
He was known as a great teacher and used to teach Tibetan history and religion at the University of Oslo, Norway, before being asking to lead the followers of the Bon tradition. Before the arrival of Buddhism to Tibet in the eighth century, Tibetans had for centuries followed Bon, an indigenous shamanic and animistic religion. Menri Trizin Lungtok Tenpai Nyima had focused his time and attention towards creating a vibrant and authentic learning centre of Bon culture and tradition at the monastery in Dolanji. He also founded an orphanage at the monastery for Bon children, the Bon Children's Welfare Centre. Today there are approximately four hundred Tibetans living in Dolanji, along with one hundred orphans and one hundred monks. Two hundred and fifty Bon children from all over India and Nepal attend the boarding school in the village.