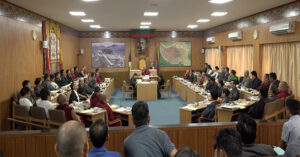 The Fourth Session of the 16th Tibetan Parliament in Exile (TPiE) saw the discussion of the annual reports of the seven departments of the Central Tibetan Administration (CTA). It also deliberated on the urgent situation prevailing inside Tibet and discussed burning issues within the Tibetan community in exile.
Parliament opened on September 19 with resolutions of mourning for various Tibetans who had passed away since the previous sitting. A unanimous resolution to express solidarity with the plight of the Tibetan people inside Tibet under China was also passed.
The Speaker of the TPiE, Khenpo Sonam Tenphel, of the necessity to prevail upon the Chinese government to resume dialogue with His Holiness the Dalai Lama and the CTA.
Jhonang activists requested parliament members to reconsider their appeal to recognise their school of Tibetan Buddhism as the fifth prominent sect of Tibet.
Human Rights group the Tibetan Centre for Human Rights and Democracy submitted a report of their survey about Electoral Reform which had been conducted within the exile community.
A petition to consider the case of MP Dawa Tsering and the Yongling School was tabled along with signatures from 2,660 Tibetans.
During the remainder of the sessions the seven departments of the Central Tibetan Administration presented their annual reports. Parliament also considered various aspects of proposed legislation.
Parliament unanimously resolved to implement the Tibetan language as the primary medium in official correspondence.
There was some drama during the sessions. On September 21 a dispute occurred when the majority of the House boycotted the after-lunch session in protest at a statement made by a legislator earlier that day. The business of the TPiE only continued when a clarification was received from the office of His Holiness the Dalai Lama which was followed by the withdrawal of the statement by the parliamentarian.
There was some controversy too. Kagyu MP Tenpa Yarphel said on September 20 that the exile Tibetan government is greatly overstating the importance of deities and that beseeching heavenly deities is not proper Buddhism, whilst arguing that the role of state oracle Nechung should be done away with.
The Fourth Session of the 16th Tibetan Parliament in Exile ran from September 19-28.