A seminar on freedom of religion in Tibet was held in the United States by the Tom Lantos Human Rights Commission. The hearing took place on July 12 to coincide with the second anniversary of the death of Tulku Tenzin Delek Rinpoche – a well known religious leader in Tibet who died while in Chinese prison – and included the issue of His Holiness the Dalai Lama's reincarnation which is seen as having gained political significance.
The hearing was co-chaired by Congressmen Jim McGovern and Randy Hultgren, with witnesses Dr Tenzin Dorjee, Commissioner of the US Commission of International Religious Freedom; Nyima Lhamo, Tenzin Delek Rinpoche's niece; Arjia Rinpoche, Director of the Tibetan Mongolian Buddhist Cultural Centre and Todd Stein, an expert on Tibetan issues and a former staff member of the State Department.
The speakers outlined the current state of religious freedom in Tibet, referring to the destruction of Larung Gar – the largest Buddhist academy in Tibet; the self-immolations taking place in Tibet; the prisoners of conscience held in jails and the succession of His Holiness the Dalai Lama.
Nyima Lhamo spoke about the situation before and after her uncle's death from her personal experience. She said there are six reasons which give rise to her belief that her uncle was murdered in prison and added, "I know there are many who continue to face the same fate as my uncle. So with a lot of difficulties and hardship, I escaped Tibet but for a very important reason – to share the suffering of my late uncle and that of other political prisoners in Tibet, who continue to suffer under the Chinese rule".
Dr Tenzin Dorjee said that by destroying Larung Gar Academy – previously home to more than 10,000 students of Buddhism from all over the world – the Chinese Government seeks to attack the heart of Tibetan Buddhism. He also spoke of the torture currently taking place of monks and nuns who refuse to denounce the Dalai Lama or who do not pledge loyalty to Beijing.
Arjia Rinpoche in his testimony said "In short, the Chinese government, while it propagates 'religious freedom' abroad, at home it practices strict control over all religious affairs, and is a typical example of 'strict inside and loose outside' policy."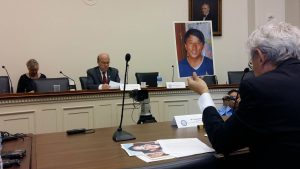 In a separate event held in Washington DC to mark the second anniversary of the death of Tenzin Delek Rinpoche, Tenzin Delek Rinpoche Medal of Courage was awarded to Tashi Wangchuk, a young Tibetan entrepreneur and language activist who is currently awaiting trial on "inciting separatism". The Tenzin Delek Rinpoche Medal of Courage is an annual award which recognises individuals who make a major contribution to the promotion and protection of human rights in Tibet.