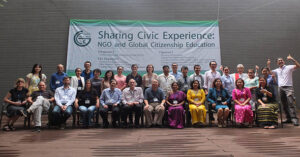 Two members of staff from the Tibetan social work non-government organisation (NGO) Lha Charitable Trust, general secretary Dorji Kyi and Contact magazine editor Tenzin Samten, participated in a workshop entitled Sharing Civic Experience: NGO and Global Citizenship Education. The workshop was organised by the Global Education Centre at the National Chiao Tung University in Taiwan, New Zealand Centre for Global Studies and Paulo Freire Institute from August 22 – 25. The four-day workshop asked 35 participants from ten countries to present their work — work that empowers their community and beyond.
Dorji Kyi spoke briefly on the history of Tibet, the current status of Tibetans in Tibet and in exile, and about Lha's projects. "It was an exceptionally overwhelming experience to share the story of Tibet with an audience who had little knowledge about Tibet yet was very much interested to know more," said Dorji Kyi.
Apart from the NGO representatives, there were three main speakers who spoke on topics relating to global citizenship education, social movements, NGOs responsibilities, managing volunteers and responsibility regarding climate change. The speakers were Carlos Torres, UNESCO Chair in Global learning and Global Citizenship Education and professor at the University of California; Lucas Welter, chief organisation development officer of AFS intercultural programmes in the United States and Adrian Macey, board chair of New Zealand's Centre for Global Studies.
The Global Citizenship Education Centre at National Chiao Tung University (NCTU-GCEC) is the first research centre focusing on global citizenship education in Taiwan. The mission of the centre is to develop the research and pedagogy of global citizenship education in Taiwan, and to establish an exchange platform for research and social practice in global citizenship education in the Asian Pacific.
"As a Tibetan refugee living in India, most of the time we are engrossed in our own problems, but through this workshop, I got the opportunity to listen to NGO representatives from neighbouring countries and see the extent of the social service they do and what kind of problems they face in their respective countries. There are so many problems everywhere and global citizen education is a timely reminder that we all have to work together as global citizens of this world in resolving today's challenges", said Tenzin Samten.