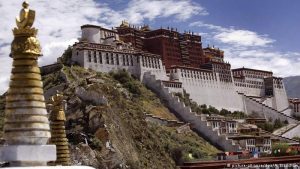 Chinese authorities have issued orders banning travellers to Tibet during the month of October.
From October 18 to 28, the Chinese Communist Party's 19th National Congress will be held in Beijing – this meeting takes place every five years. During that time, foreigners, as well as residents from Hong Kong, Macau and Taiwan who require special permits to enter Tibet, will be banned. Tibetans from Amdo region will not be allowed into the Tibetan Autonomous Region.
An announcement was made that tourists should leave by October 17. "During the sensitive, high-level talks, Tibet will close its borders to foreigners, while visitors travelling the country during that period will likewise be required to leave by October 17," reports Agence France Presse (AFP).
This ban will be a blow to the local tourist industry as October is a popular month for tourists.
Chinese officials have frequently banned entry into Tibet during politically important events since the 2008 uprising in Lhasa which spread across Tibet. Beijing has adopted far stiffer security and travel restrictions in Tibet than any other part of China. Foreigners and even those residing in China require special permission to enter Tibet.
Sources also reported that high-level official meetings have been scheduled in Lhasa, the capital of Tibet during the time of the ban.
The ban is seen as a way of China enforcing their policy of silencing dissenting human rights voices and avoiding protests during times when politically important meetings are taking place.
Tibet is known to be closed every March – another politically sensitive month. March 10, 1959, is commemorated as Tibetan National Uprising day; it marks the day when thousands of Tibetans in Lhasa rose up against China's regime in Tibet and the subsequent violent crackdown that saw thousands killed. In March 2008, a series of protests against China's rule spread across Tibetan regions, again sparking a crackdown during which hundreds of Tibetans were shot, detained and beaten by armed Chinese security forces.