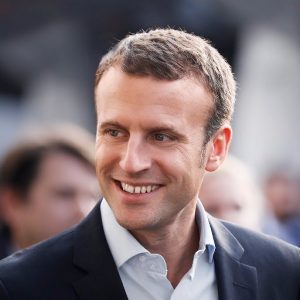 Tibetan leaders have voiced their support for France's new president-elect, Emmanuel Macron, following the May 7 French presidential election. Macron, who won the election by a decisive 66.1% over his far-right opponent Marine Le Pen, is also the youngest president-elect in France's history.
Emanuel Macron has spoken out on the Tibetan issue in the past, and met His Holiness the Dalai Lama in 2016. His Holiness has written to the new president congratulating him on the victory and expressing his shared sentiments for strengthening the fabric of the European Union, saying "As you know, I am an enthusiastic admirer of the spirit of the European Union – putting the wider community's long-term common interest ahead of national and other local concerns. I hope the European Union will grow from strength to strength and that it will be a model for other continents to follow in times to come. Since France is one of the pillars of the European Union, I am confident that you will be able to play an active role in its successfully meeting the challenges that lie ahead."
President of the Central Tibetan Administration, Dr Lobsang Sangay, congratulated Macron on the victory, stating that it is a "testament to the strength and resonance of France's three founding principles – Liberty, Fraternity and Equality – in these divided times." Dr Sangay remains optimistic that France will continue to be a strong supporter "of the Tibet issue based on the Middle-Way Approach."
Both Speaker Khenpo Sonam Tenphel of the Tibetan Parliament-in-Exile and Representative Tashi Phunstok, Western Europe's representative of His Holiness the Dalai Lama, also congratulated Emmanuel Macron and stressed the importance of France's continued support for Tibet in these difficult times.
Emmanuel Macron's victory is being hailed as a positive step for France in the face of the recent national front anti-immigration, anti-EU shift which has sprung up amid anger and division in the country. And for the global political landscape as France, like Tibet and the world at large face an uncertain future.