The Library of Tibetan Works and Archives (LTWA), described by the India Times as "one of the most important libraries and institutions of Tibetan works in the world", and currently housed in Dharamshala in northern India, is to be moved to Bangalore, Karnataka in south India because of concerns about the safety and preservation of the 80,000 manuscripts, books and documents, 600 thank has, and thousands of pictures and other artefacts.
Funding is being sought for the move to the Dalai Lama Institute of Higher Education near Ramanagara where a suitable environment for the artefacts would ensure their preservation and availability for study
The current location in Dharamshala is not considered suitable because of the high humidity and the imminent risk of earthquake and subsquent destruction of the collection – Himachal Pradesh lies in the "very high risk" zone with the potential for an earthquake with a magnitude of 8.2 or greater on the Richter scale. And in the monsoon this year, 250mm fell on Dharamshala making it one of the wettest places in India.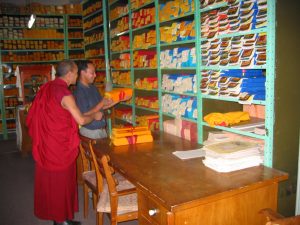 Speaking to the Times of India, LTWA Director Geshe Lhakdor said, "The project requires huge funding. We are looking at philanthropists who can give us funds for preserving these ancient manuscripts. These are priceless collections and we cannot afford to lose them at any cost".
LTWA was created in June 1970, instigated by His Holiness the Dalai Lama, to preserve the Tibetan culture. With the help of the Indian government's Ministry of Culture, from 1959 thousands of Tibetan artefacts were transported to northern India to ensure their preservation, this was seen as particularly important following the Chinese cultural revolution in which so many Tibetan manuscripts and artefacts were lost.
Geshe Lhakdor continued, "The main aim of the library is to preserve, promote and foster the culture and identity of Tibet. We want to share the collective knowledge and wisdom with the world".