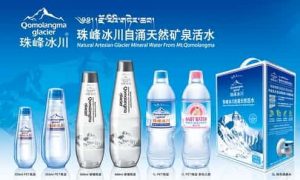 The global environmental concerns over the growing consumption of bottled water are reaching the remote uplands of Tibet. Tibet's water is being extracted and sold for profit. One example is in Hong Kong where sales of the Brand Tibet 5100 are booming. Tibet 5100 is water said to be bottled at the "source of Tibetan glaciers", at an altitude of 5,100 metres.
Tibet 5100 is on sale in supermarkets in plastic 1.5 litre or 500 ml bottles costing HK$13.5 [£1.30; US$1.70] and HK$8 [£0.75; US£1] respectively and the company, Tibet Water Resources, which was founded in 2006, has a year-on-year expansion of 5%.
The plastic bottles are an environmental concern for Hong Kong where they are consumed, but the environmental implications for Tibet, where the water is sourced, are significant in a country already facing major environmental pressures.
The springs that supply the water are on the Qinghai – Tibetan plateau in the Himalayas, in an area where water concerns affect not only the local area but the millions of people living downstream and who rely on Tibetan water for their daily needs.
In 2015 the Tibet Autonomous Region's government released a 10-year plan to encourage the expansion of the bottled water industry. Tibetan water is much cheaper than in other parts of China and water bottled from the snow-capped peaks commands a premium as it is perceived as pure. Qomolangma Glacier Water is extracted from a national nature reserve only 80 kilometres from Everest Base Camp.
China is the world's largest bottled water consumer and a major producer, but its per capita consumption is low so the market is expected to continue to rise and with this, the pressure on Tibet's water is likely to increase.
By the end of 2014, 28 companies had been granted licences and Tibet Water Resources is one of the fastest expanding of these and aims to produce 10 million cubic meters of bottled water by 2025, and to export worldwide. The company gets government subsidies and is said to have received US$50million [£37million] before 2013, as well as other benefits : tax cuts, tax holidays and cheap loans.
The company is flourishing but the Tibetans living in the area have no say in the decision-making process about what happens to their water, and no share in the profits.
Environmental studies show changes in water flows in the Himalayan region, and attribute these mostly to artificial dams and industrial exploitation, as well as the worldwide rise in temperatures. These changes are contributing to abnormal water patterns downriver in Tibet and its neighbours in South and Southeast Asia.
There is a complex and delicate ecosystem on the Himalayan plateau and it is under stress. Scientists have confirmed that melting permafrost caused a recent flood of water, mud and grass following unusually heavy rainfall and that the permafrost melt rate is increasing.
The region is vulnerable to climate change. The Chinese Academy of Sciences report that glaciers in the Qinghai – Tibetan plateau have already shrunk 15% over the past three decades. In the long term, rivers will dry up with disastrous consequences downstream.
Increased industry and exploitation of the water resources can only add to the problems facing this region and in turn, the millions of people living downstream.
China Water Risk is a non-profit initiative looking at the impact of the risks associated with water exploitation. They have looked at bottled water consumption in Hong Kong and the factors that encourage people to buy it. They found that over half (53%) of people they surveyed drink bottled water – and half of these are regular purchasers. Their research showed the purchasers' main consideration is convenience – although they may agree that plastic waste is an issue it does not stop them buying and they do not regard the quality of tap water as an issue. Although China Water Risk suggest that conveniently located water dispensers will encourage people to use refillable personal water bottles and thus reduce the dependence on bottled water, this attempt to change the trend is in competition with the massive bottled water industry with its impetus and marketing strategies.