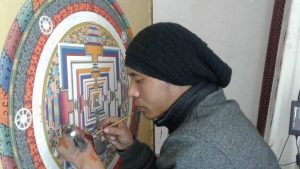 Tenzin Rabgyal is working in his simple studio in McLeod Ganj. There are no computers, no desks and very few distractions; it is a peaceful place by necessity. Tenzin works sitting cross legged on the floor, his painting mounted in front of him. Making the occasional ruckus, Rock, a Pug Tenzin took from an animal shelter one month ago, sits in a crumpled heap on the floor. The set-up may be simple, but the thangka art Tenzin is producing stands in stark contrast.
Thangka paintings are a vital component of Tibetan Buddhism. They serve as important teaching tools depicting the life of Buddha, various influential lamas and other deities and bodhisattvas. The paintings are frequently commissioned for devotional as well as decorative purposes. A typical piece will take between three and seven months to paint and include incredibly elaborate details depicting various small figures circulating around a central deity.The thangka artist works on a cotton or silk canvas using pigments composed of minerals, plants, pure gold and pure silver. Today, with Tibetan culture under siege and bereft of its spiritual home in Lhasa, thangka artists are a coveted rare breed.
Tenzin was born in Tibet in 1984 and brought by his mother to India when he was just two months old. His family wanted him to return to his homeland but His Holiness the Dalai Lama advised his mother to leave her baby behind in India. Tenzin's mother returned to Tibet and he was raised as an orphan at the Tibetan Childrens Village School in Dharamshala. He wouldn't be able to contact his mother and family again until 2009.
From a young age, Tenzin showed a keen interest in art, calligraphy and mathematics. He was initially fascinated by modern art, particularly depictions of Tibet, where his estranged family lived a life that to him would remain shrouded in mystery. In 1996 he won a modern art contest at school and met the Dalai Lama. Later that year, after attending a 15 day workshop, he became interested in thangka and this has become the conduit through which he now connects with his heritage, history and religion.
Tenzin attended art college from 1997 to 2002 and then moved to the Thangde Gatsal School in Norbulingka in Dharamshala where he studied under Master Locho. Locho cultivated his interest in thangka and during this time it became the driving force in his life. He lived a monastic life at Norbulingka and produced thangka pieces. In 2009 he travelled to Jaipur and participated in a traditional and folk artists camp. Two years later he was the only Thangka artist selected to display his work at an international art workshop in Udaipur. In 2011 he was awarded a degree in thangka painting, completing his formal education.
Last year, Tenzin opened the studio where he now works and lives. He has a small staff that helps him produce commissions. Following the teachings of Master Loche, he makes sure that his staff receive their fair share of the money from each commission. At his studio, Tenzin also teaches his craft to students from around the world. Students often stay for months and learn how to make the canvas, how to sketch the outlines of different deities and how to appropriately use different colours in line with centuries of tradition. Running his own business gives him a sense of freedom which he couldn't experience whilst living at Norbulingka. He is currently working on three paintings, two commissioned by a monastery and another commissioned by a family to commemorate their grandfather.
In 2009 Tenzin made contact with his family in Tibet. They are farmers in a village called Sherkar in Tingri County in southern Tibet, close to Nepal. Communication with his mother and father is very difficult due to language difficulties, but he can communicate with his brother and sister. His family worries about him a lot and prior to him making contact they were not sure if he was even alive. Tenzin hopes to visit Tibet and see his family someday but the process is very arduous. His family would struggle to complete the myriad of formalities required as they are illiterate. As it stands, Tenzin has managed to ease some of his family's worries about what life is like in India, whilst Tenzin's mother has navigated the language divide to tell her son not to drink whisky.