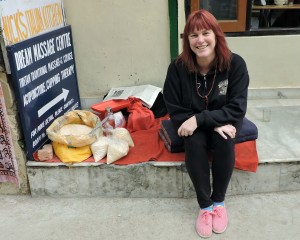 I have loved photography for as long as I can remember. I've also had a passion for foreign cultures, language, and travel since junior high school. It seems natural that at some point the two became intertwined.
I arrived in India in autumn 2009, in McLeod Ganj at the end of November that year. The hundreds of photos I took were, in part, a way for me to record and process things I was experiencing. The lifestyle and mindset seemed radically different from anything I'd ever witnessed. My photos were a doorway into what felt like another dimension.
Later, as I posted images on social media and talked to family and friends in the United States, I realised my photos were also gateways for them. Most had never travelled, especially internationally, and had no idea what life was like outside their own sphere of influence. The visual connection seemed to work better than words, not least because looking at photos is much faster than reading long descriptive passages.
At first my images from McleodGanj were mostly related to Tibetan activism. Over time, and three long stays in Dhasa plus trips to other Tibetan settlements in India and Nepal, they became more "cultural documentary". I expanded from covering mainly Tibetan issues to the greater "Himalayan region". I am fascinated by cultural differences, but also by the similarities. I enjoy capturing the everyday moments of local life, whether is at a religious ceremony, a community event, or simply in the streets.
Now I live here: I plan to stay! Here are some of my pictures – I feel that my pictures tell my story better than words.
Advertisment feature

Tammy Winand Photography
If you see any image that you would like created as a print, poster or other product, please contact me by email: click here for email link
Want to see more? Please follow these links
Himalaya Images facebook: click here for facebook link
Prints, posters, postcards and photo gifts:
click here for photos and gifts link
Weekly photo essays at Tammy Winand Photography: click here for photo essay link
For more of my early work see Everyday Exile Photojournalism blog: click here for blog link
I also offer work as editorial and commercial stock photography which can be used in articles, blogs, on social media and in books (credit preferred but not required with stock purchase) at:
click here for MostPhotos