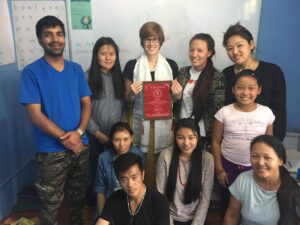 Volunteer Job at Lha: German teacher and Contact news writer
Hello, my name is Agnes. I am a student from Austria and I volunteered with Lha for a little over two months. My main purpose for coming to McLeod Ganj was actually to do research for my Masters thesis on Tibetans living in exile. Whilst at home in Austria, I decided to contribute to the Tibetan community by volunteering my services.
As soon as I became familiar with Lha things changed! During the first few weeks, I spent much more time at Lha than on studying which turned out very well and to be a good idea! The lovely staff were very supportive and answered all the questions I asked as well as putting me in touch with other Tibetans who I could interview for my thesis.There would not have been this positive and broad outcome of my investigation into the Tibetan community without the supportive and helpful people at Lha.
When I arrived in McLeod Ganj, I thought I would partake in conversation classes and tutor English classes. However, when I came to the office and met Rabsel ji, the volunteer coordinator, he told me for the first time that I would be teaching German. To be honest I was a bit shocked as I have never taught a proper class and I was not really sure about my own German skills! But I loved it from my first lesson onwards. The students were amazing! They were very committed and willing to learn this difficult language. Soon they started to interact in German with me and their colleagues. Whenever we finished the class they waved goodbye by saying "Tschüss, bis morgen! Habeinenschönen Tag!" "Bye, see you tomorrow. Have a nice day!".
In the beginning, I had to tell them more than once that I don't want to be addressed as "Mam" but by my name Agnes. Some of them have become really good friends and when I finished volunteering they gave me lovely and beautiful presents. All of them wanted to take pictures with me. I felt like I was on the Red Carpet! Although my teaching was a little unskilful sometimes, for example I was not able to write in a proper line on the white board, they still treated me like a star.
Occasionally, I would also write for the Contact magazine which gave me a good insight in to the ongoing political agendas in the Tibetan exile community and which also contributed to my thesis.
I want to express my deep gratitude to the staff of Lha, to my students and to the other volunteers. Especially those who encouraged me and told me that I am doing a great job as a German teacher as well as researcher. You gave me an unforgettable and productive time in McLeod Ganj. I hope to see you all again soon.
Thukjeychey and tschüss.
*Hello and good bye