It's Friday morning and I'm in the office of Tenzin Tselha, the National Director of Students for a Free Tibet (SFT) India. It's a position she's held for almost a year now and her enthusiasm shows no sign of waning. Born in Ladakh, her childhood was, by her own admission, relatively charmed and not overtly political, although her mother made her aware early on that she was a refugee. It wasn't until her time at college in Pune however, where she studied Education and English Literature, that she became actively involved in the movement. Feeling that "I should do something for Tibet, because I'm a Tibetan", she started a chapter of SFT at her university. Since then she hasn't looked back.
Although this was her first foray into activism, Tenzin had been aware since her childhood that "I didn't have a country. We are refugees in India and we need to go back. It's part of my identity; it's how I was born. Being a Tibetan means I have to accept that, but at the same time I wasn't really sure what I was supposed to do. I was not sure whether I could make a difference."
"When I went to college I felt that not many Indians knew about the Tibetan Freedom Movement. They didn't know where Tibet was on the map. They often thought Tibet was part of India.  So it [her activism] started from that time in university.  Then I came for a programme over here [in McLeod Ganj] and that's where I met SFT. I was reluctant at the beginning. Even in school I never took a leadership position. I thought that I didn't have it in me. I was really scared in the beginning. I remember I called a meeting and though there were only fifteen people, though they were my friends, I was really nervous. What was I supposed to say in front of all these friends?"
"So that's how it started. I became chapter coordinator for three years. In that time I learnt so many things. SFT had this training called Action Camp in Dharamshala. It completely changed my life. I really liked being a vehicle of change in the community."
Discussing her progression through the movement, Tenzin tells me that she remains in contact with the chapter she started in Pune. "I'm proud of those Indian students who are continuing to do stuff for the Tibetan cause. Non-Tibetan allies are always appreciated. For me, it's a necessity, a duty – that's how I feel. But for them, it's caring about human rights, caring about other people's concerns. I always appreciate that".
Directing an organisation like SFT comes with its challenges, however.  Firstly, "you're responsible for almost everything that is happening. You need to think about every big or small decision you're making."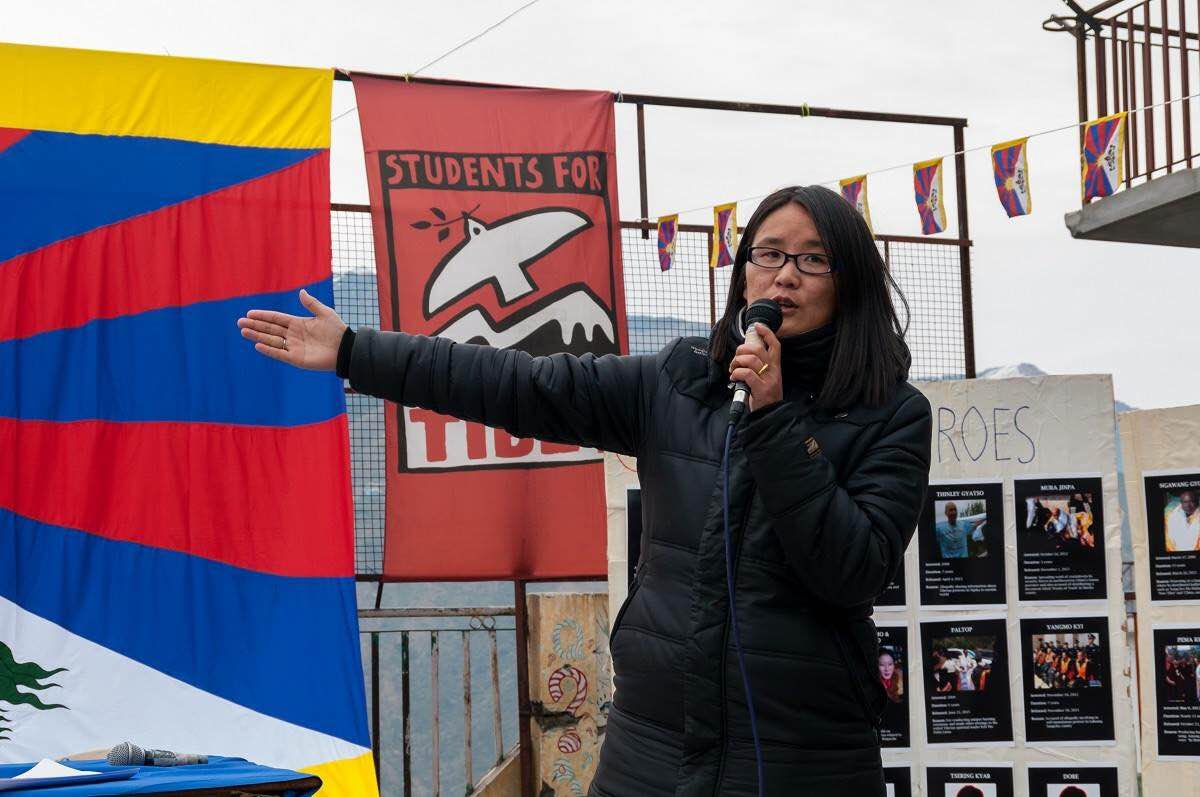 Time is also a pressing concern. "As National Director you need to take quick decisions and be decisive, but at the same time you need to think about the consequences. You're responsible for the staff that you have, the growth, the culture, trying to get what the organisation or movement needs from the staff. They [the staff] are young Tibetans who can be leaders in the future. I think it's a big responsibility and it scares me sometimes. Can I give them the right guidance? I need a mentor myself sometimes."
During our interview, Tenzin paid tribute to her mentors and inspirations. "Obviously the first mentor I think all Tibetans have is his Holiness the Dalai Lama. At a very young age he was put into a position he didn't fully understand. He has managed to build up a community in exile and he is still an inspiration inside Tibet. He was the first inspiration I had."
The first, but not the last. "When I was starting to get involved I was really inspired by LhadonTethong, the first Director of SFT. I'd never seen a woman as strong, articulate and inspired as her. She did the training for Action Camp and it made me feel like I could do something."
"There's also Dorjee  Tseten, who was my boss and recruited me. We do things differently, although I think the way he takes care of those working for the movement is incredible. Recruitment is one thing, but retaining people is another, and he's the person who made me stay. If I face big problems then I'll always talk to him."
Tenzin, in her role as Director, has overseen many campaigns, protests and initiatives, but the one she is most proud of is the currently ongoing River campaign. "I was there at the beginning, making goals, strategies, doing analysis, and it felt good to do something like that. I'm still learning about campaigning, but being part of this process was one of the most beautiful things. I'm really proud of that one."
Tenzin says that she and the other campaign staff at the SFT office focus on maximising the opportunities available according to their skills in order to be as impactful as possible. Smiling, she concludes "When you sleep you get a good night's sleep because you have done something great in the day." For the sake of the Tibetan cause, may she have many, many more well-rested nights.
Learn more about Tenzin and Students for Free Tibet here