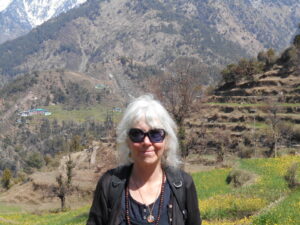 Back in 1969, when I was a rather young girl who really wanted to meet the Dalai Lama, I set out overland to go to India.
Shall we point out, travel was not easy then?
Quite a few of us were traveling to India, the media called it the "Hippie Trail to Kathmandu" but I was the only one I met who was heading to McLeodGanj.
After hitchhiking to Srinagar with a friend, and a spell on Dal Lake, I rode on the top of a lorry (with just my pet mongoose) heading down to Himachal.
The villages we passed were tiny, traditional, and the people gawked at foreigners. They were also quite afraid of the mongoose; at a rest stop I set him free to flourish in the forest, and find a partner and start a family. He had been originally rescued from captivity in a tailor's shop in Khainndahar, Afghanistan. His descendants no doubts are the ones we see today, scurrying around town.
Arriving finally at Lower Dharamshala, I started walking up the hill. Night was coming on, so I accepted the invitation of two sadhus to spend the night at the little Krishna temple en route. It was a bad idea, and an uneasy night. Some things never change. Kindly neighbours helped me out, and the next morning I continued hiking.
McLeodGanj then was tiny, just one little street and a few low dim houses. Nowrojee's shop was there, and one tiny café. There was a giant prayer wheel in what is now the main square, and a patch of mud surrounded it. Monsoon mud. One Tibetan family had a tent in this muddy square, one of those old-fashioned canvas tents, cold and wet looking, and every morning they would emerge on hands and knees, big smiles on their faces. Then they would begin to circumambulate around the prayer wheel.
I found a small room overlooking the prayer wheel, and soon started to meet the Tibetan refugees living in town. They were very kind but still traumatised by what they had gone through. I remember one lady, tears streaming down her face, in broken English telling me "They deaded (sic) my husband."
As I had almost no money, I was living on cups of tea people offered, and never did get to taste any momos! I was given an old-style chuba, green colour, which I wore for years. The refugees, despite their own poverty, were so kind and generous. And of course, very devout.
The surrounding hills were thickly forested, with trees everywhere you looked. No hotels! No restaurants! No tourists or roads! No trash! Life was simple, maybe some electricity or not. Herds of goats and sheep. People walked everywhere (no rickshaws, no taxis, no huge buses!). The Parliament was not yet built, nor the Library, nor the Tsuglagkhang Temple. I saw no other foreigners. I don't remember seeing any monks. The main work available to people was breaking rocks, you would see families living by the roadside, squatting and hitting rocks over and over, making them into gravel. The children were either helping if they were big enough, or playing quietly in those dangerous conditions.
And the Dalai Lama…
Despite that being my main reason for being there, I never did meet him. People said, "oh just go along that path, and turn up and …." And I started out. Then I got a bit lost, and lost my nerve. Why would the Dalai Lama want to meet me?
Nowadays I think maybe he would not have minded, as there were so few making the pilgrimage then. But I was so shy and timid, I let the chance pass. Perhaps it was also a Buddhist idea that it wasn't right to be attached to desires. Reckoning that if it were meant to be, I would meet him someday. It is still a regret.
And so many years later I returned. The town was unrecognisable, with its crowding, flashing lights and chaotic noises. The jumble of ugly constructions, swarms of tourists, honking traffic, monks by the dozen, and Tibetans no longer so friendly, overwhelmed with it all.
Now I've seen the Dalai Lama many times, and had a brief touch on the hand in blessing, but I am rather sorry at missing the opportunity to chat with him.
Perhaps if it is meant to be, that will someday come about.