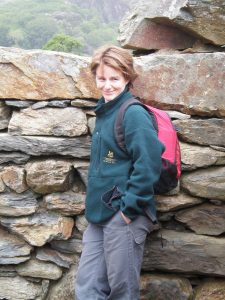 Name: Ailsa Newcombe
Unlike most of Lha's volunteers I have never been to McLeod Ganj, nor India, nor Tibet, but I have been volunteering for Lha for eight months now. I live in Wales, part of the United Kingdom, on the edge of the Snowdonia National Park. Like McLeod Ganj, it's hilly here (although our hills are quite a bit smaller) yet it's also near the sea. And it rains – a lot. However, it is very beautiful and I feel privileged to live here.
I used to work with Contact's Editor-in-Chief. We kept in touch after our jobs ended and when she heard that I was doing a proofreading course she asked if I would proofread the next edition of Contact. That was early last summer and I have proofread every edition since. Once a month I receive an email with a draft of Contact attached, about midday UK time, and I send it back that night. It takes me about four hours to read and correct the text depending on how many articles there are.
Proofreading is more than just spotting mistakes. It's my job to make the text consistent and error free without losing the 'voice' of the writer: important in a publication like a newspaper that has many different writers and writing styles. I'm aware that most of the people reading Contact are not first language English speakers so I try to avoid using very formal English. Most of the changes I make are to do with the spacing and layout issues that crop up as the articles are put into their final format. These volunteer stories in particular have very few changes made to them. They are told in the writer's own words; I just try to make sure that the meaning is clear.
Although I was aware of the situation in Tibet before my work for Lha, through reading Contact I now know so many more details and I learn more about Tibetan culture and current affairs every month. At Christmas I received a card with a picture of a yak on the front from Lha. It was unexpected and much appreciated. My eight-year-old daughter was intrigued – she had never seen a yak before, not even in a book. We have plenty of sheep, cows and goats in the hills around here, and even a herd of bison and two alpacas, but sadly no yaks.
Maybe one day I will travel to McLeod Ganj and meet some of you face to face and walk in your hills. And I hope that one day I will see a real yak. Until then I will read about your lives and imagine …