Volunteer Job at Lha : Contact writer and helped with transcription for the website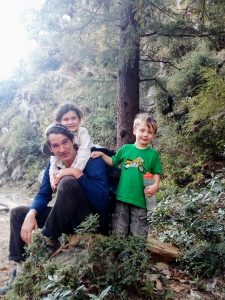 The children still talk about the Chinese government. At first, they asked why the Chinese government was so mean to the Tibetans, why didn't they like Tibetans. As their understanding grew, they incorporated the story into their games. Sitting in our hotel room one night, they dressed up in "monk and nun costumes" and played Tibetan refugees. They sombrely hiked over the Himalaya, from Tibet to India — it was cold. Then they were orphans who were forced to work in a restaurant to make ends meet. Our stay near to Mcleod Ganj lasted two months and over that period our family (myself, my wife our two children, aged four and six) learned a lot.
We decided to stay in Himachal Pradesh because of its stunning beauty and Mcleod Ganj provides an excellent opportunity for immersion in cultural fusion, something we lack in rural Canada. In this remote part of India, one can find Indians from all over the country from Rajasthan to Kashmir; shepherds who have been walking these mountains for hundreds of years; travelers from all over the world and a large population of Tibetan refugees. This dynamic mix, and the volunteer opportunity we found with Lha, drew my wife and myself in; the kids were along for the ride.
Our experience volunteering with Lha was fantastic. The flexibility and warmth of the organisation allowed for a schedule that we could make work. On a regular day, I'd go into the office for half the day while Kristy stayed with the kids; then we'd switch.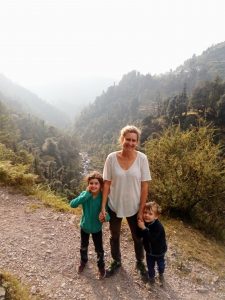 We'd often bring the kids into the office and they attended a couple of tutoring sessions. Seeing the office, and meeting people first hand, made the experience real for the kids; this wasn't a story dad told or something on TV. They came to Saturday volunteers lunches at Ahimsa house, experiencing the sense of community that goes along with a volunteer organisation. They saw people from all over the world coming together to help with a cause they find worthy. They also wrestled with the big questions we all do when we see systematic oppression and the destruction of culture up close. They are learning the true meaning of perseverance and courage.
Our time in Mcleod Ganj was further enriched by attending the Dalai Lama's teachings over the course of four days. Their exposure to the Tibetan Museum, the stories of cruelty and bravery surrounding Tibet's struggle will have a lasting impact on our entire family. Our overall experience was rich and rewarding. Oh, and we had fun too.
Graham and Kristy volunteered for two months in 2016.